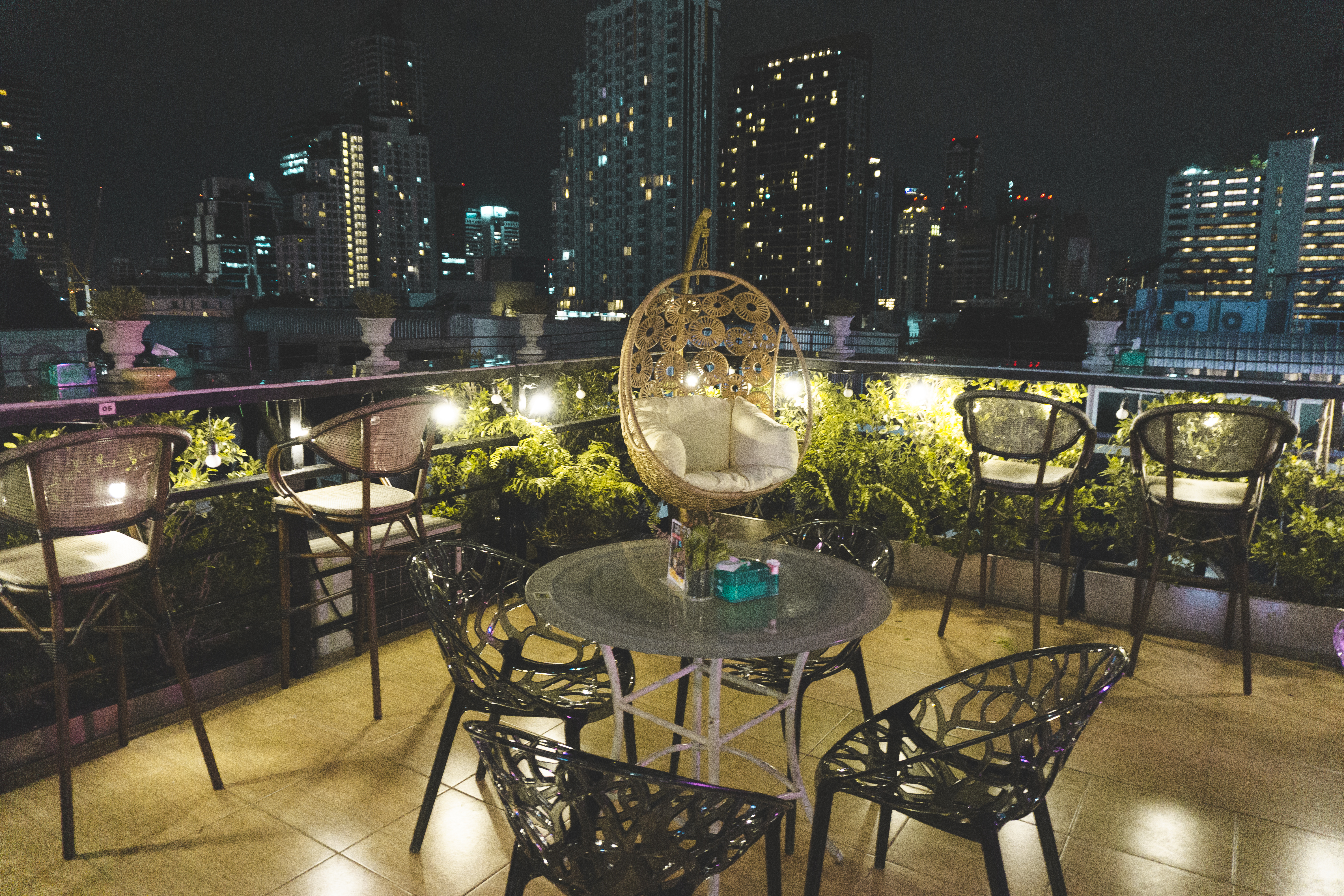 Thailand, and Bangkok itself are a bit like a different world. It seems to function like we know it in Europe, and in reality, for sure we're going to face a major culture shock. And all of this will happen, if we would dare to take a step outside of the comfort zone. So don't be a typical tourist, who only eats in the American-styled restaurants. Instead it's better to discover Thailand like locals do. It's worth it! So what has surprirsed me the most about Bangkok?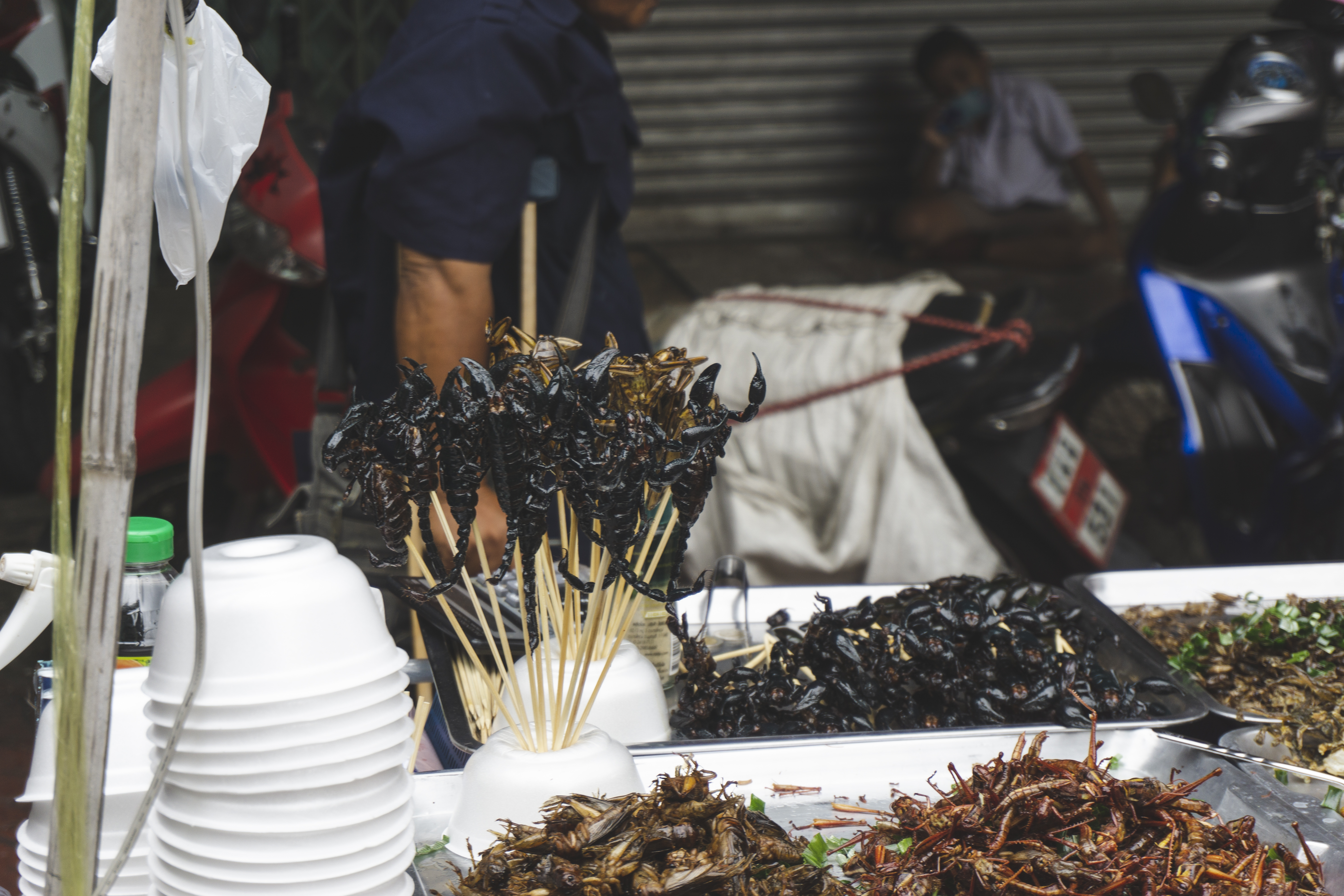 What surprised me the most about Bangkok – street food i food prices
Here's the real magic of Thailand – food! While on my last distant travel to Seychelles, I kept complaining about the food. So Thailand was literally a culinary dream come true, and until now, I haven't eaten so well and so cheap during any previous travel. After landing in Bangkok, I've faced two culinary worlds – in one hand there were many restaurants, and in another hand, the street food market seemed to not have an end. And if you think that the local street food looks like European or American food-trucks, you're mistaken. What surprised me the most about Bangkok is that street food in here is exactly as the name states it. It's located by the streets, or in places that I wouldn't even expect to find food in. Most of the time it consisted of a small trailor, brought by a bike, with a huge pot full of boiling soup; or a small barbecue full of meat, which was placed literally at the sidewalk. It seems to be popular thing to pack the takeaway food in the plastic bags, tied with some rubber bands. Just like you used to buy some goldfish in the pet store back in the days. That's the essence of Bangkok!
In our case, our culinary choices has been somewhere between all of this. Of course we ate the local shashliks, spicy minced meat salad sold in the bag, and we've used little, local stands where we bought my favorite, sweet drink: cha yen (most of the time I opted for green tea flavor or mixed: coffee-tea!). Usually we've tried to pick up the spots where we can sit and eat, but which still looked local and real. It wasn't a hard task, because it's enough to see if there are many Thais eating out there – and the best if there are no tourists in sight. I guarantee that the food will be delicious, fresh and very cheap. I think that has surprised me the most. Food prices were nothing like in Austria. For two large dishes with some extra spring Rolls, water (or other drink) we paid around 3-5 euros, depending on the place and the amount of side dishes, that we picked. That's why we tried to always leave the tips – especially in the little restaurants, to which we kept coming back.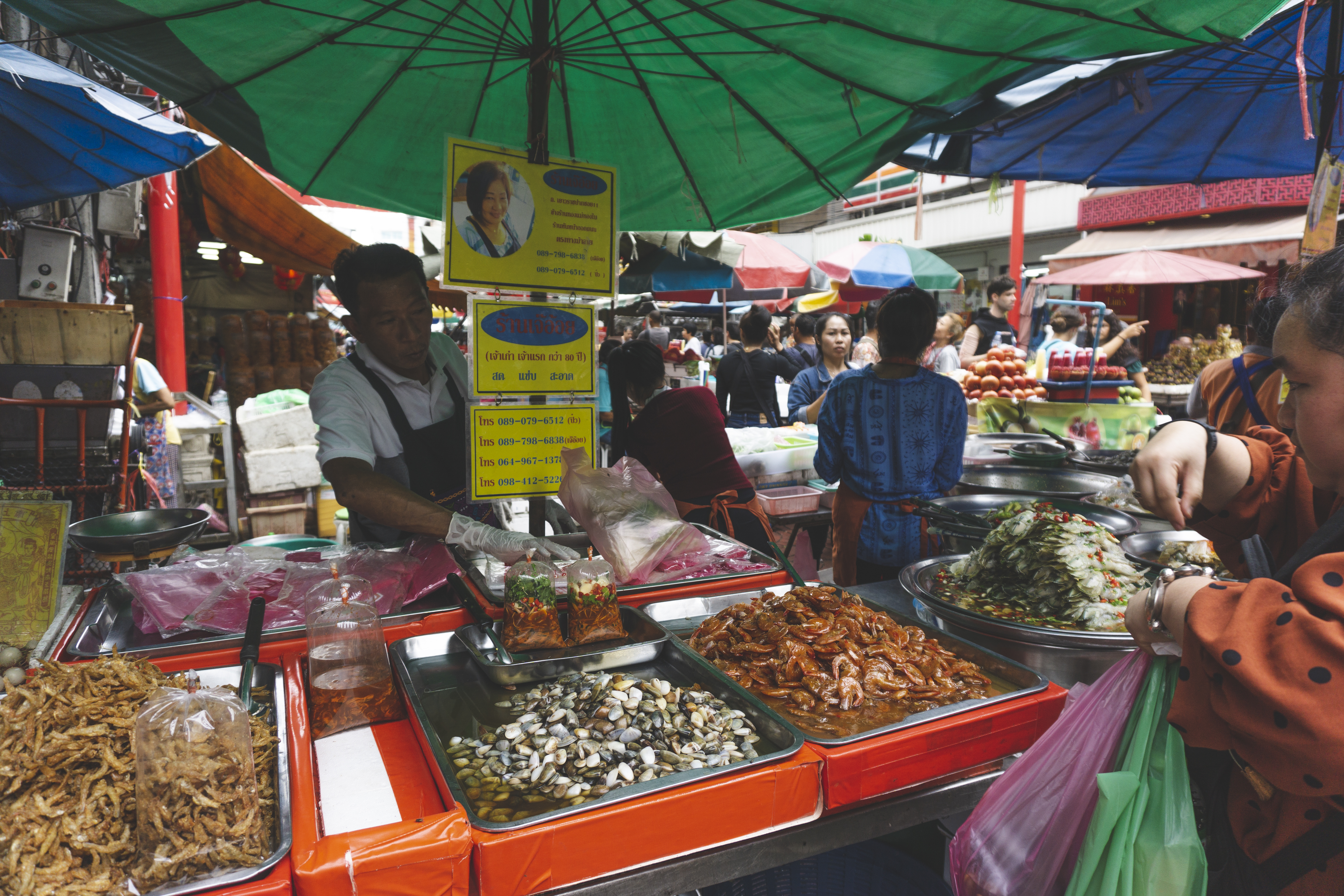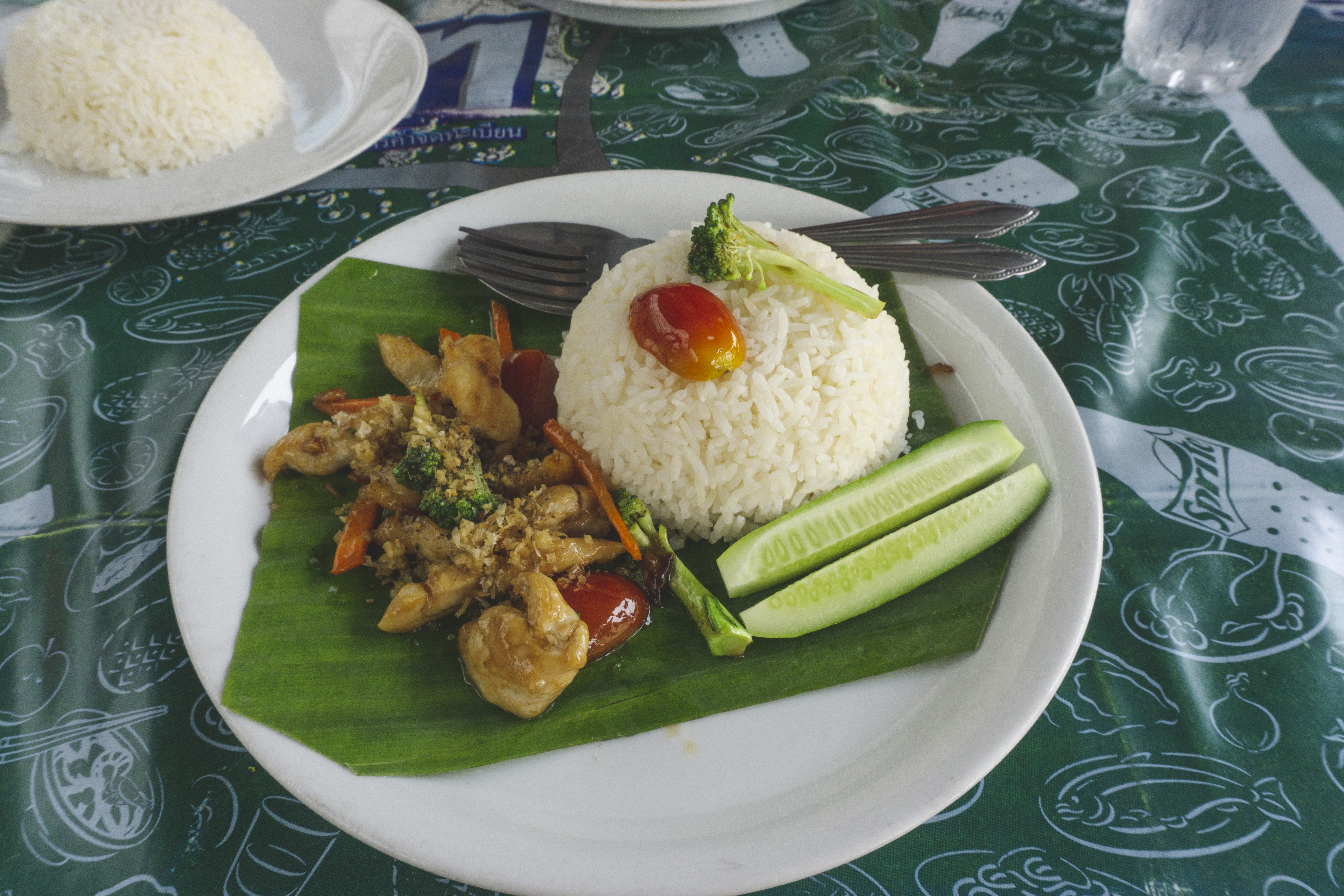 What surprised me about Bangkok – temples everywhere
Bangkok welcomed us with a huge billboard reminding everyone that Buddha is a religious symbol, and not a tattoo idea, which is considered here as insulting. This thing itself says a lot about the fact that Thai people care about their religious symbols, temples and setting strict rules like: not entering the temples while wearing shorts, or removing shoes before entering some of them. The amount of temples is something that has surprised me about Bangkok. Their style was also something that amazed me. Also, remember that most of the temples offer paid entrance – but it's not overly expensive.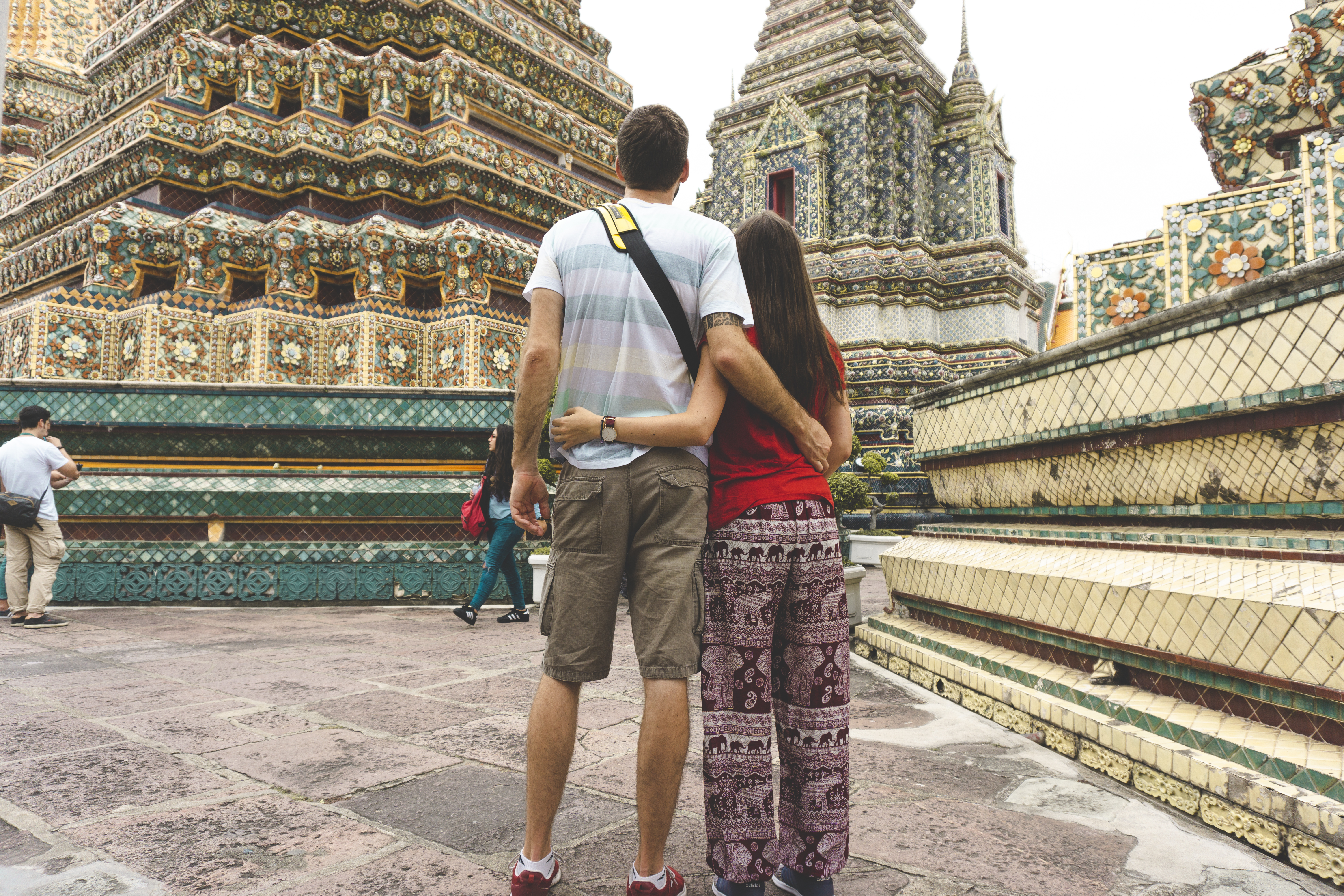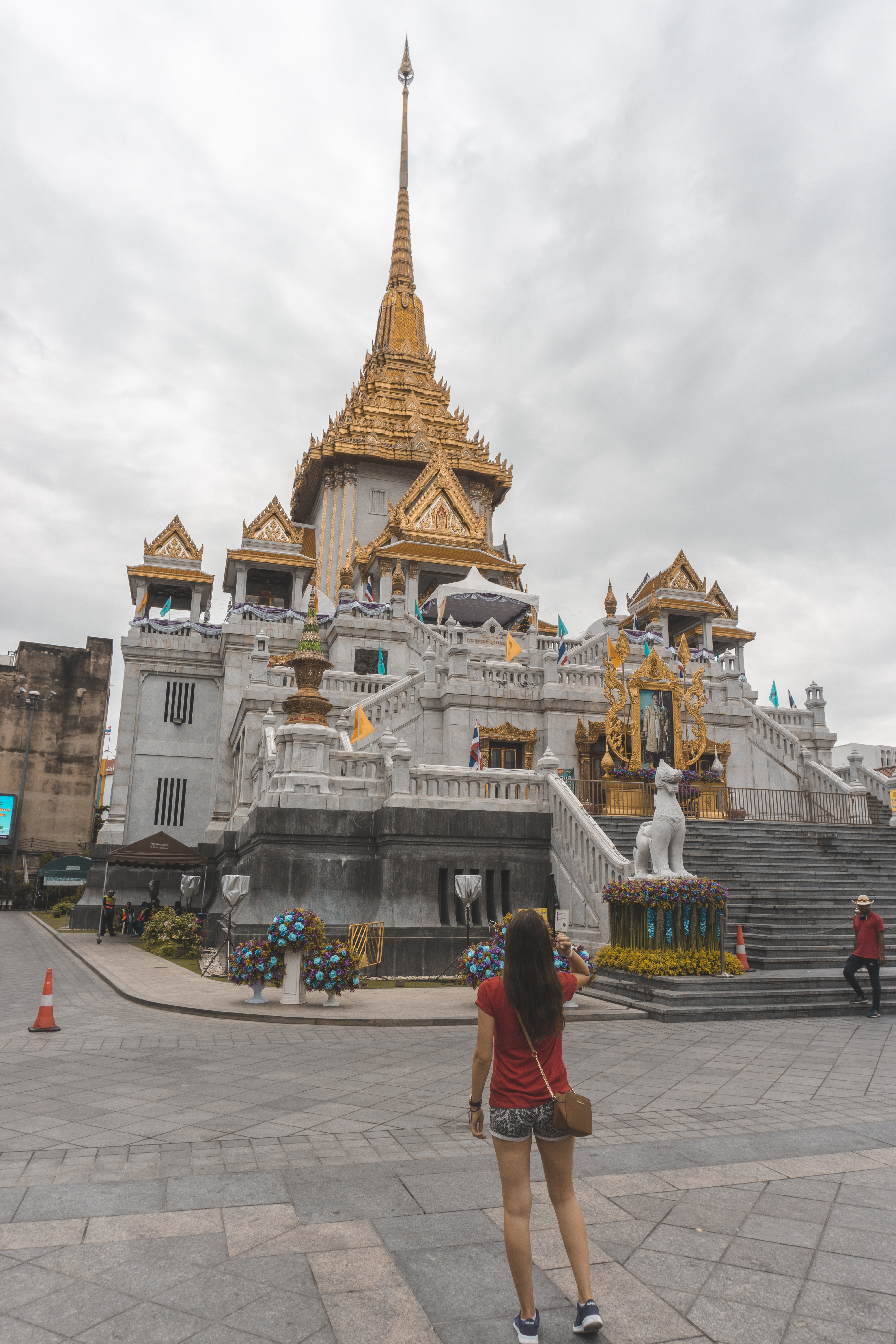 What surprised me about Bangkok – plenty of Sky Bars
In Bangkok most of the best hotels and highest buildings have sky bars or in other words, rooftop bars. It's nothing else than bars with the view, but most of them, except of letting you wait in line, also reminds you of their strict dress code. So if you dream of having a drink in a sky bar, where Hangover 2 has been recorded, you can't come in open toe shoes. You also can't enter in a normal t-shirt, and men can't wear shorts, because what's required is so called "smart casual" style.
So I don't really know if I was most surprised with the amount of sky bars in Bangkok, or with the need of coming there dressed like to a prom. But the bar that we've chosen was something in between. It was called Heaven Rooftop Bar & Lounge. And we've picked it because of the closeness to our hotel, satisfying view and there was no strict dress code. And on the top of that, drink prices were really fair and there was a karaoke with a live band!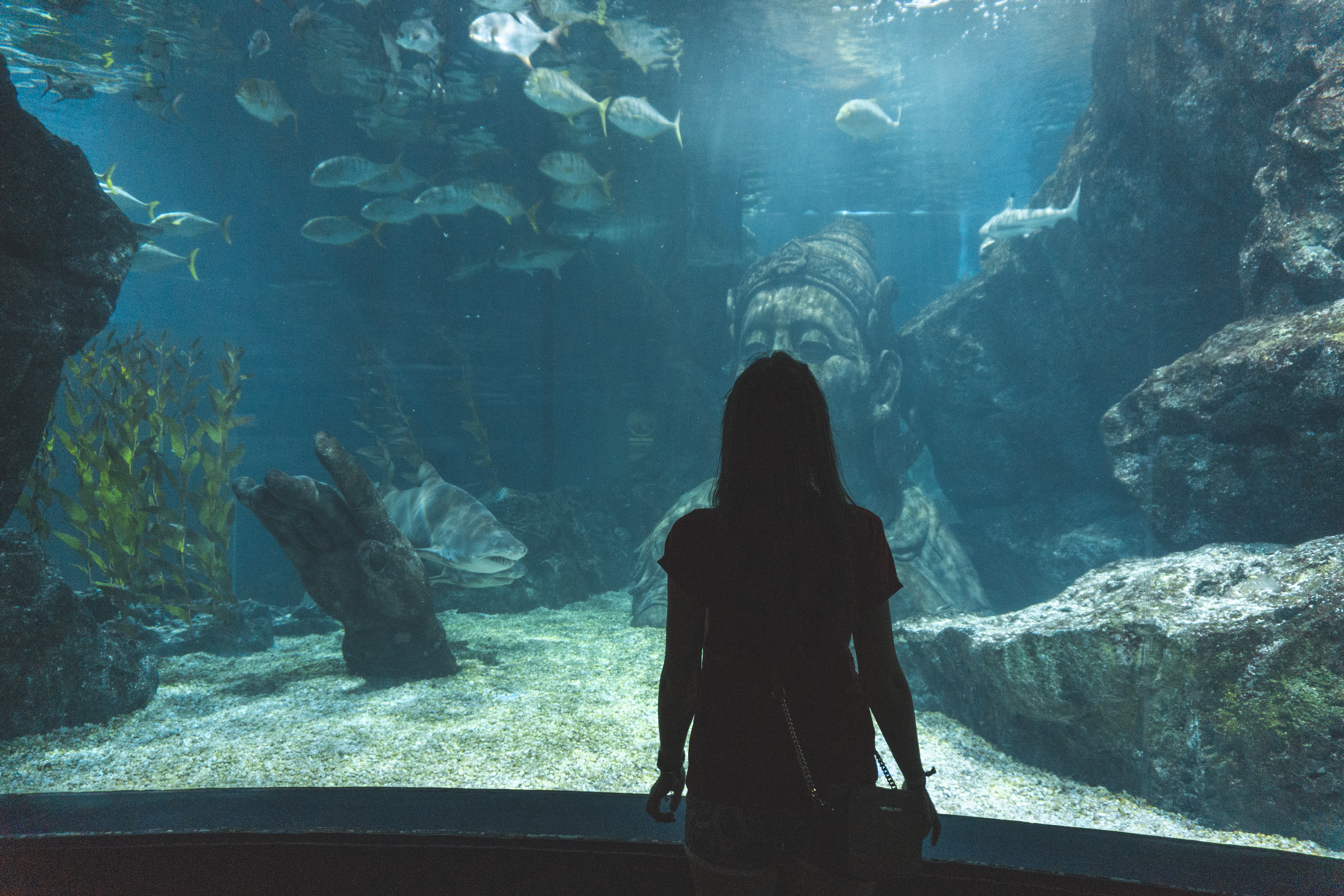 Sea Life Bangkok Ocean World
This place has been a major surprise to me, mostly because it's located under the mall! So you can enjoy some shopping in Bangkok on the ground floor and have some Thai ice tea, and just a floor down you can admire the sharks swimming around you. I know that my visit in the Ocean World caused mixed feelings while I've shared the picture on instagram, while I've been accused of promoting animal suffering. But honestly I don't see it this way. There are no animal shows out there; and you can mostly see diversified fish and water creatures. And a visit in the ocean world has been my dream since I saw places like this in American movies. For me it was worth it.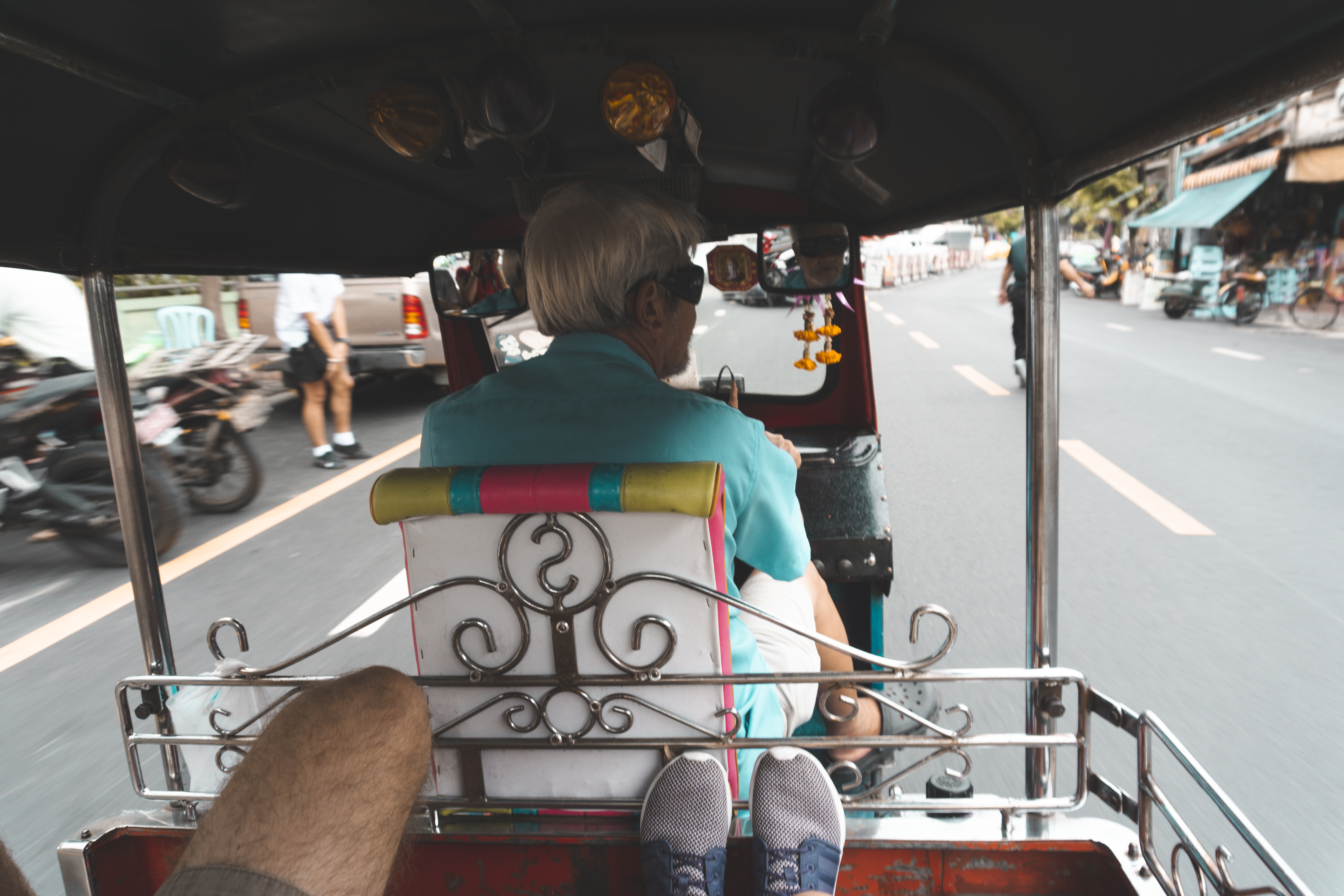 What surprised me about Bangkok – tuk-tuks and the traffic
Even though I knew that Bangkok with their 9 milion of inhabitants exceeded the whole Austria (where there are over 8 million people); I didn't really, trully realize how it looks like. So the first glimpse of how the public transportation looks like in Bangkok and how scary it is to cross the street, was definitely an interesting experience. I mostly liked the tuk tuks – something like a hybrid of a little trailor with the small motorbike, providing an extra sitting place for the passengers in the back. I've heard many stories about tuk tuks before, but I had to experience it myself and see how crazy and fearless those drivers are. Right after we've stepped into one, the driver started off with the full speed and started straddling between other tuk-tuks, cars and scooters. What's weird, I felt rather safe – but I tried to not think about the road accidents statistics in Bangkok at that moment.
Flats in Bangkok – a small culture shock
Before arriving in Thailand, I knew it's a country of contrasts. In one hand you can see really tall buildings and modern neighborhoods; and in another hand, there are slums and real poorness. Even though I travel a lot, it was Bangkok which surprised me the most. After landing I said that I'm shocked how many abondoned buildings and flats we can see everywhere (also in the centre) – and I meant those really nasty, sometimes with covered windows, dirty and empty looking flats. My boyfriend said that indeed, those are probably somebody's homes and in a huge city like this one, even an extra meter of space matters. Same goes to small, local stores, sometimes located in the open garage doors, which many times has been connected to somebody's miniature house. The view including people sleeping on the floors or children doing their homeworks in there wasn't so rare.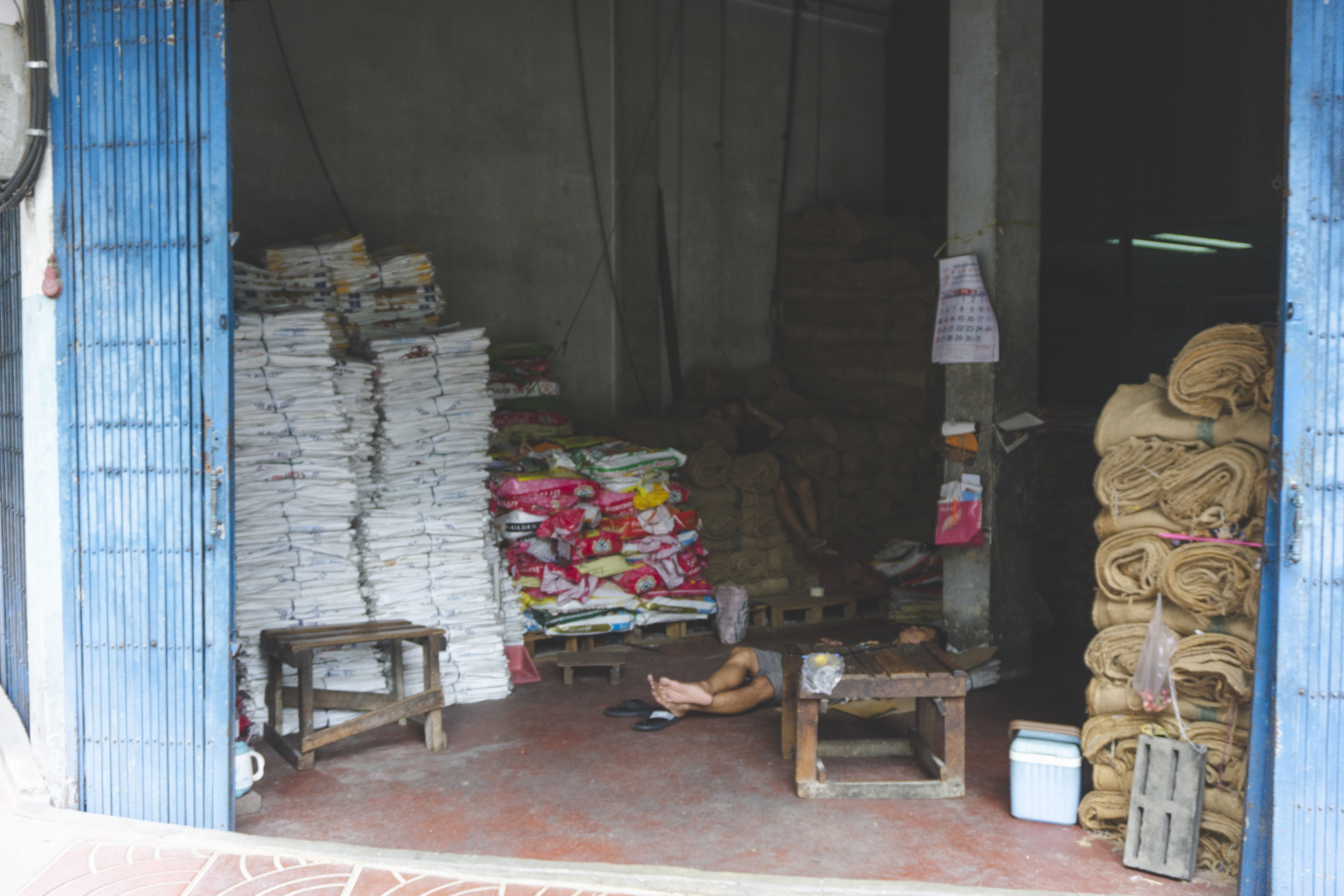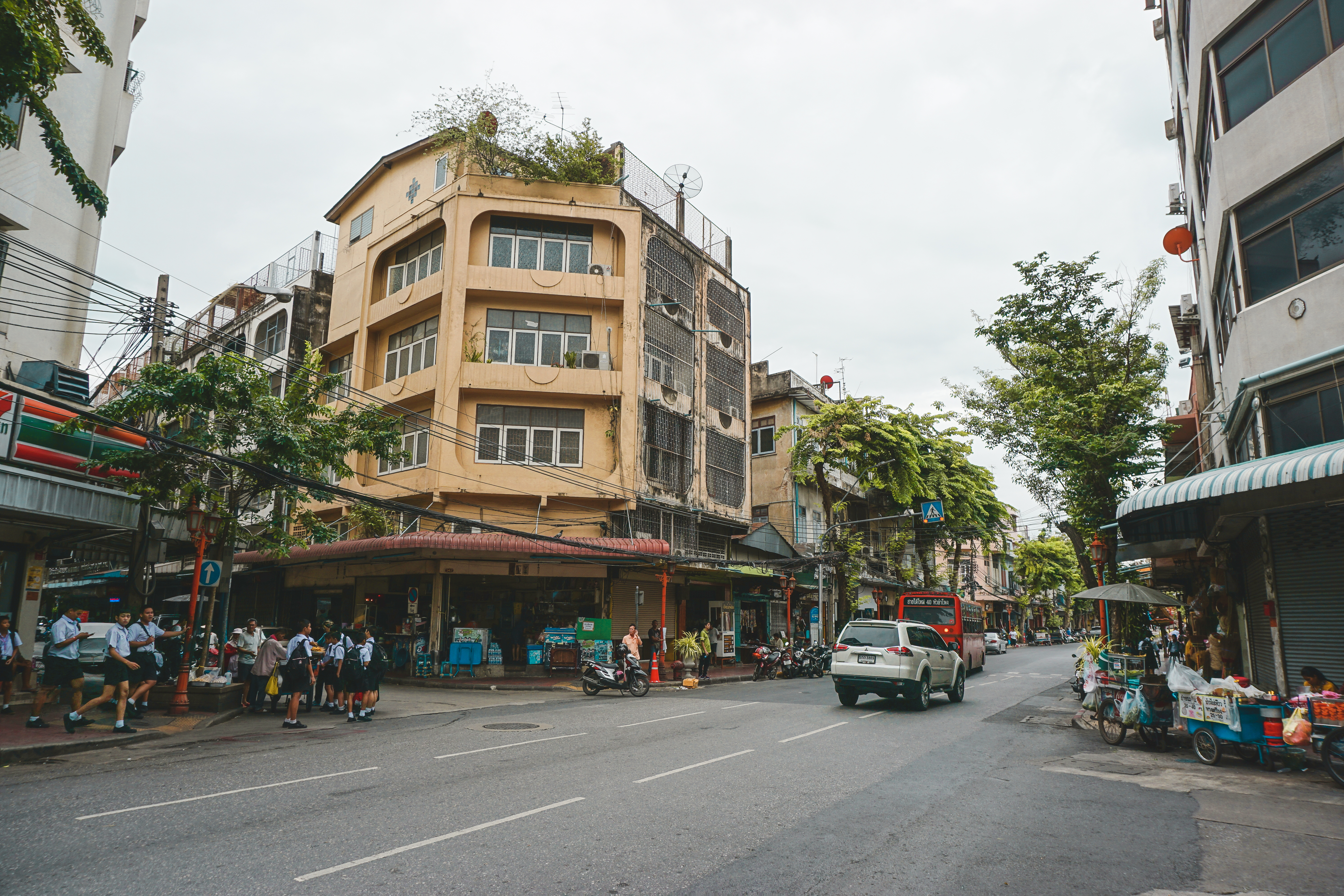 Instant soup love
The last thing that has surprised me the most about Bangkok, which isn't the craziest discovery in the world – is the possibility of making an instant soup right after buying it. The photo below depicts a little store at the ferry to Koh Samui. In case of a small hunger you can buy some instant noodles in there and use the hot water container outside. I've seen a similar solution in the chain stores 7-Eleven. So simple, so useful. 🙂

What has surprised you the most about Bangkok? Or maybe you're planning your first visit in the future?