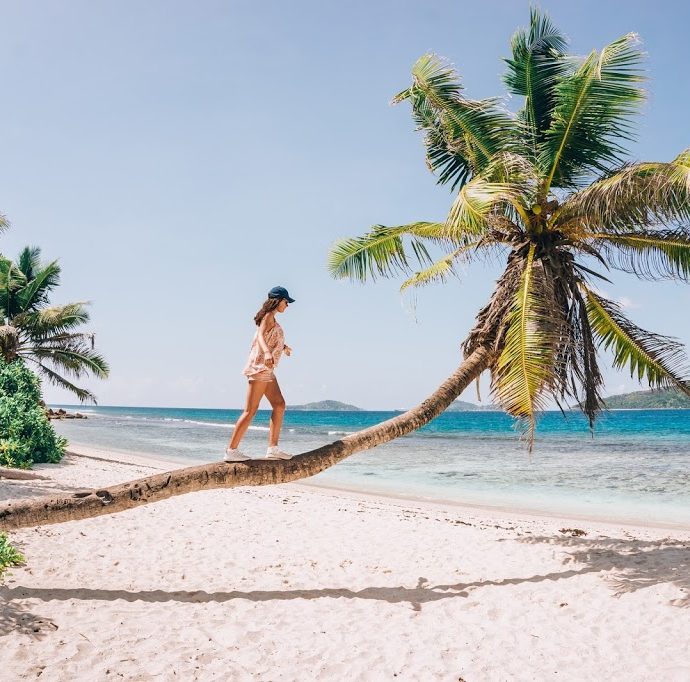 Seychelles Islands – travel cost and how I organized the journey on my own (La Digue, Praslin, Mahe)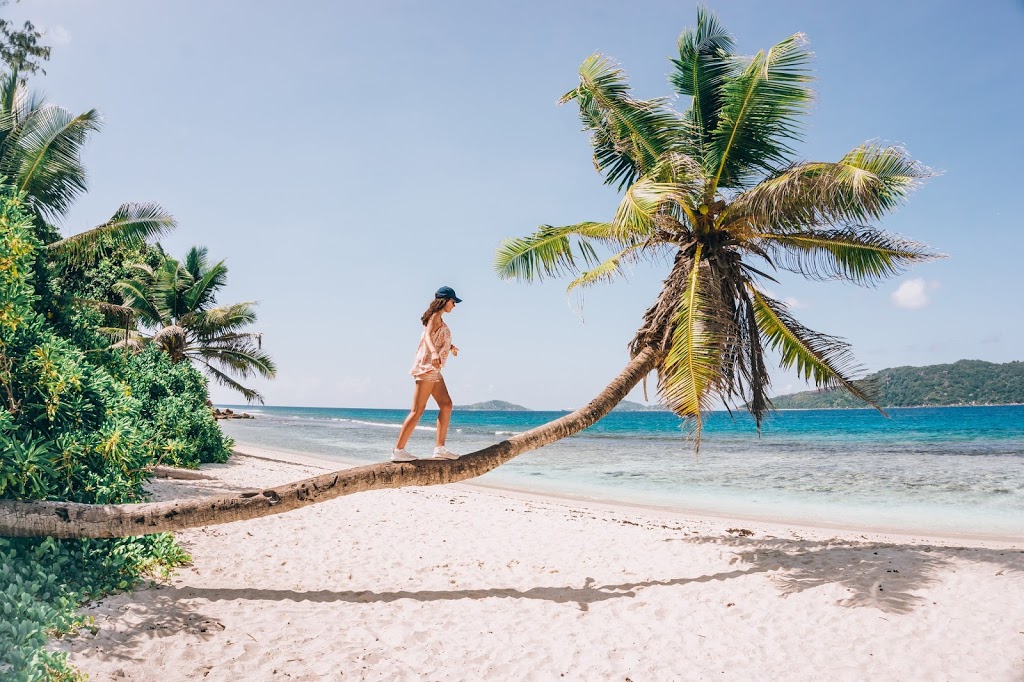 Spending Winter on the paradise beach with crystal clear water and coconut in my hand has been my dream for a long time. I thought about it especially when I had to drive my bike to work, and the weather made me want to turb back home and crawl straight into my bed. Admit it, you had it in mind way too many times too. And if I would be about to get a cent for every time I've heard a similar statement from my friends, I would save up for… well, at least for another coconut.
However, what differs me from the others is that I take the matters into my own hands and I try to change the "what if" into a specific travel plan – in this case, into the travel to divine Seychelles, organized on our own.
So no more complaints! If you want to find out how to organize such distant trip, how much does a stay on Seychelles cost and if it's even reachable for the mortals – read on!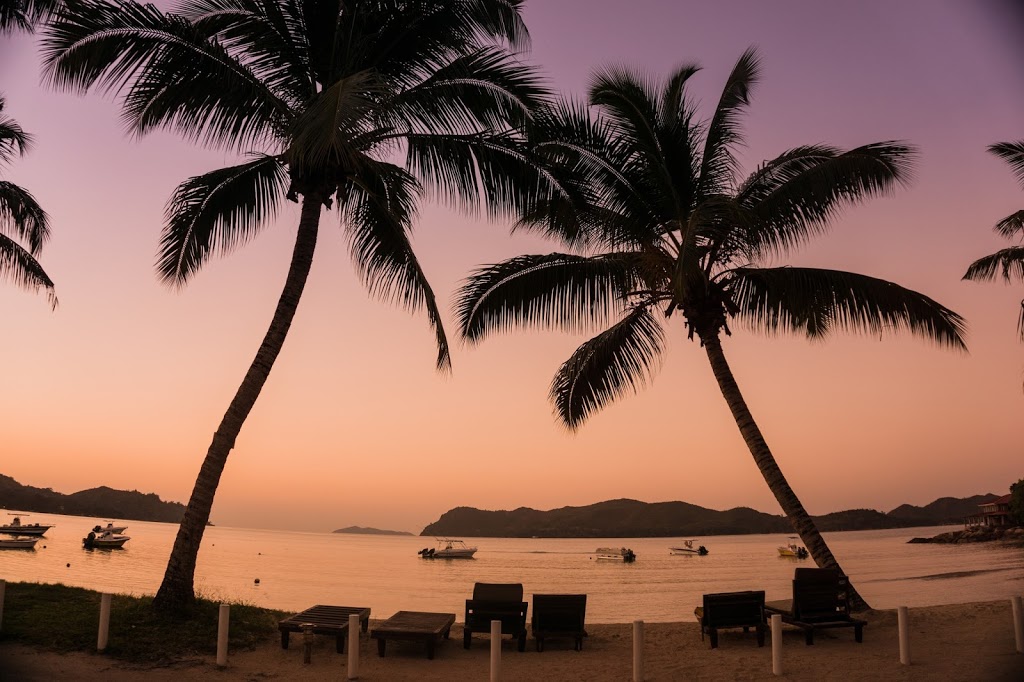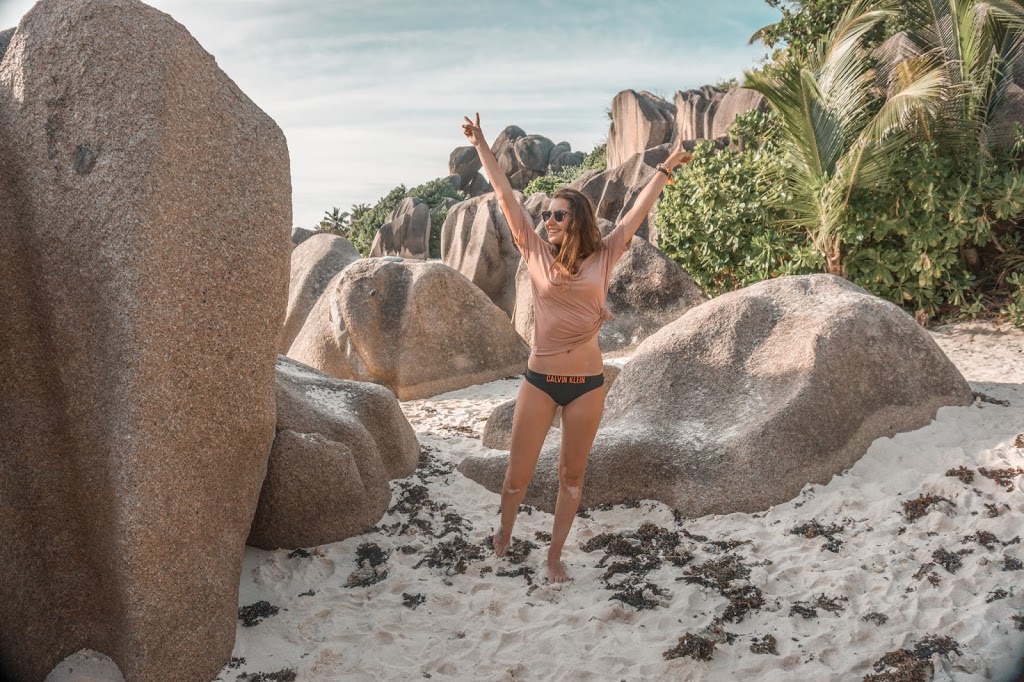 Seychelles – the most beautiful islands in the world

Seychelles is a set of small islands surrounded by Indian Ocean. The whole archipelago counts 115 of them! But the most popular are: Mahe (with the international airport), Praslin and La Digue. Seychelles is an independant country with the capital Victoria (on island Mahe). Seychelles, even though they're so small that you can barely see them on the map, are located 1600 km from the coast of Africa (near Madagascar) and since years are imperturbably listed as the most beautiful beaches and most beautiful islands in the world. Sounds interesting, right? Add to it some white, delicate sand and perfectly clear water – just perfect! 
Seychelles on your own
Organizing the travel on our own doesn't necessarily have to be as hard as it seems to be, and you can save a great amount of money, which would normally cover the costs of the travel agency. This way, on your own, you can discover Seychelles from the best, real side. So I always encourage everyone to stop using the travel agencies and I bring also few more reasons to do so: while organizing the travel by yourself you're not bound to only one place, one restaurant and one hotel, and in case of any problems, you can just pack your bags and move to another place without risking your journey to be a total failure. However, I know that everyone has a different travel taste and different view on how their summer holidays should look like – some will enjoy the total relax and not even moving an inch while chilling on the beach for days; others prefer to discover (just like me!). The most important is to just find the type of travel to your preferences to make sure you'll come back home happy and rested!


Trip to Seychelles – my flight and travel plan

At the very beginning we've reached Vienna (Austria), where we've left our car on the paid parking lot near the airport, from where our shuttle bus drove us to the airport in a couple of minutes. Our flight plan looked like as follows: Vienna (Austria) – Belgrade (Serbia), an hour of time to catch the next flight – Abu Dhabi (United Arab Emirates) and the free time for sightseeing in the city – Mahe (Seychelles).
The travel has been relatively long, but thanks to the planned stop in Abu-Dhabi, we could rest a bit and that worked well on us. After the arrival on Seychelles, we've spent one night at Mahe, just to catch the ferry the next day and find ourselves on the most beautiful of islands – La Digue. You can do it by the ferry (company's called Cat Cocos) or a bit more expensive, by a small plane, where the nice views are quaranteed – but it's only possible with small baggages.
The flight plan for the way back looked the same, with a bit extended stop in Abu-Dhabi to have more time for seeing the city.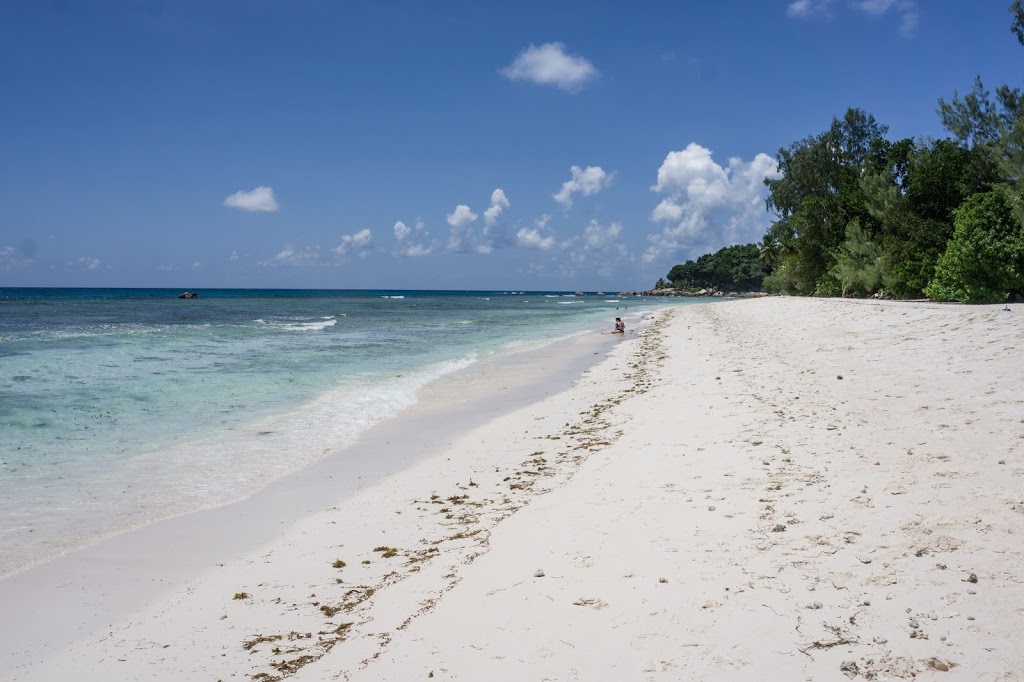 Accommodations on Seychelles – which ones do I recommend?

Amount of available hotels, houses and rooms depends on the island's size. The bigger the island, the more possibilities you get, however it's always good to consider the easiness of transportation while picking your accommodation. While staying on Mahe I tried to find the place, which would offer me a relatively easy transportation to/from the airport and to the harbor. Here's the list of places in which I've stayed on all 3 islands (Mahe, La Digue, Praslin):
Recommended accommodations on Mahe:
La Maison Hibiscus (link) : A very pleasant room with the air conditioning and the kitchen part (with all necessities) and the bathroom. You can reach the beach within the walking distance. You can see a beautiful mountain from your window. 
Kayola Self Catering (link): Our room has been located in the separate, small building with the kitchen's view over the forest and ocean. I recommend this place mostly because of the owner, Jimmy! Book his home-cooked dinner right a way – it was delicious! We've spent there two last nights before departure and not only we've learned a lot from Jimmy about the lifestyle and mentality of the Seychellois, but he also took us to his favorite beach, gifted freshly picked cinnamon (from his garden!), and even gave us a ride to the airport, without asking for anything in return. It's good to mention that Kayola is located quite high on the hill, so if you travel with the baggages, it's better to call for taxi.
Recommended accommodation on La Digue:
Tannette Villa (link): My favorite place with a very pleasant house (our room was on the first floor: bedroom and bathroom). I recommend to book the dinners for all of the days – it's not the cheapest solution, but totally worth it! When it comes to prices, this accommodation was the most expensive of all (around 100euro per night).
Recommended accommodation on Praslin:
Chalets Anse Possession (link): To my surprise, we actually had the whole house for ourselves (bedroom, bathroom, room for the baggages and the kitchen). The beach was located literally a few steps away, but there are quite many fishing boats so I gave up on bathing out there. Even though I was really happy with the accommodation, I advise against booking breakfasts in there – 20 euros for two people for a couple of bananas (which I don't like), instant coffee, jam and toasts and egg omlettes.

There's also a fridge in the house, so it's better to buy something and prepare by ourselves. Near the house (a few minutes by walk) you can rent the bikes from a very nice Austrian. 🙂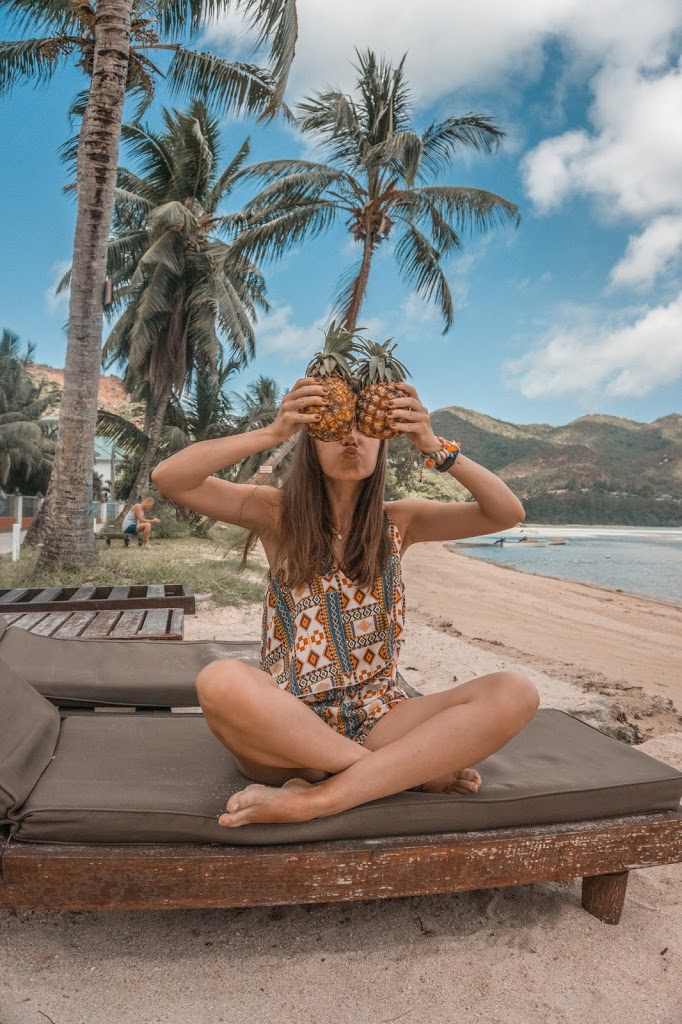 Public transportation on Seychelles
 Public transportation on Seychelles is a tourist attraction by itself. City busses are mostly really old, but they still manage to overcome all the crazy turns, mountains, hills in a truly express tempo, not only once making me wonder if we'd actually reach the final destination in one piece. 🙂 Accidentally hitting somebody's trash-bin from the driveyard didn't make a big impression on the driver. But that kind of public transportation is surprisingly cheap (well, okay maybe not so surprisingly), the ticket usually cost 7-10 SCR (0,44 – 0,62 EUR) and it will take you almost everywhere (also on time). It's most comfortable to pay with the previously prepared amount, and the drivers of course speak English, so you can ask them to assure yourself if you drive in the right direction.
Before the travel I've read that the bus drivers don't take tourists with the bulky baggages and we've been warned about it at the place too, so I recommend to take backpacks instead of suitcases – we didn't have any problems related to this issue.
It's a great way for the budget travel around the islands, the views are magnificent and we would be able to feel a bit more like locals. Taxis are also widely available, but the same journey would cost us 400-500 SCR (25- 31 EUR), sometimes more, so it's good to haggle.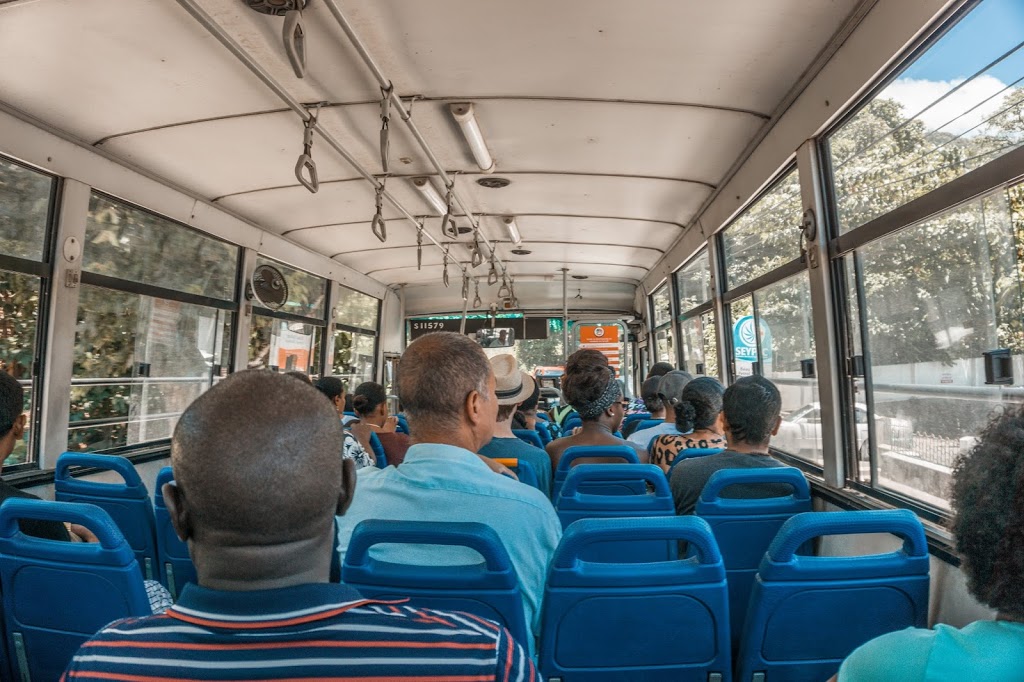 What you should know before flying to Seychelles?
– I've bought the plane tickets directly on the Etihad Airways page and those were the best planes I have ever traveled in. So comfortable, with a wide variety of movies and good food. It's good to print out all of the confirmations and keep all of the tickets together, because it may happen that the airport staff will ask you about the dates of your planned arrival (to the final destination) and departure. Also sometimes they ask about the hotels you'd stay in.
 – All of the hotel reservations were made on the booking.com site in advance and most of them offered payment at the arrival (you can pay with the card in Chalets Anse Possession and La Maison Hibiscus, but the rest definitely preferred cash: it's better to have the local currency or euro).
– The ferry between the islands can be booked online in advance. I bought the tickets at the harbour a day before the departure and that wasn't any problem either.
– The easiest and most comfortable solution is to try to pay everywhere with the currency of Seychelles (SCR – Seychellois Rupee, 1EUR – 16SCR).
 – You don't need to worry about the visas prior to your travel, because you'll receive a fill-in document in the plane upon landing, and a stamp to your passport (a shape of a coconut) after a few minutes of waiting at the airport. Same if you plan to stay in Abu-Dhabi on the way (like me), you can receive the visa to your passport (for 90 days) – even if you plan just a short walk, it's always good to use this priviledge and just spend some time outside.
– It's good to remember about the English plug adapter (most of the hotels had them, but why risking)
– The traffic on Seychelles is left-sided like in England! You need to remember about it to not get confused while renting a car or bike. In case of renting the bike, remember to bargain! I've been offered a bike on La Digue island for 300SCR daily and I've managed to talk it down to 50SCR daily (3 EUR).
– You definitely need to take sunscreen with you, MINIMUM OF 50-60 SPF! It has been also recommended to take the mosquito spray with us, but I didn't use it even once during the whole stay. I think we had lots of luck and traveled in the good season (March- April).
– Stores on Seychelles are closed on Sundays
– It's good to install some free offline maps on your phone, because it can help you navigating around the islands. You can buy sim cards with internet at the airport, but the signal is weak. Wi-Fi networks are available at the hotels, but sometimes they're additionally paid (!)
– Good to take some snorkeling mask with you and/or flippers. Underwater views are beautiful
– If you see the "no swimming" information – please respect it, even if you see that many people ignore it. It happened to me once that on the really beautiful beach on La Digue, the waves weren't looking like a threat to me and I ignored the sign. The waves pulled me back to the ocean while I tried to get out of water.
– You can't transport the coral reef, which you can find on the beaches quite often; nor the shells. Even though it's all beautiful, you can get troubles trying to bring it with you.
– Seychellois speak English and French and there's absolutely no problem with communication anywhere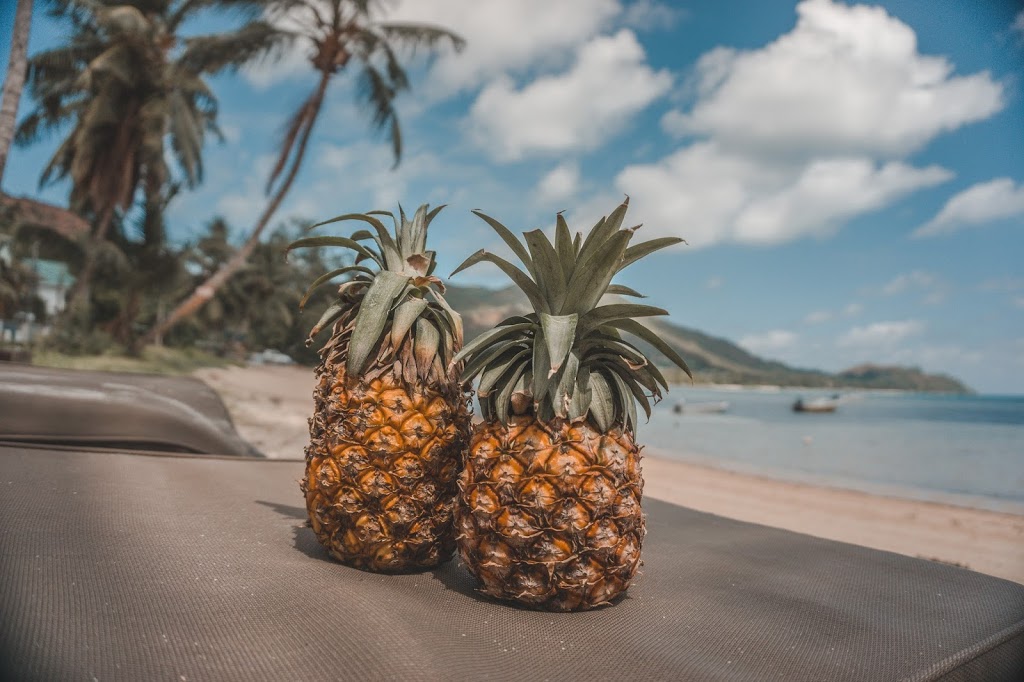 Food on Seychelles
I think it's a point that definitely deserves some space in the general sum up, because I have mixed feelings towards the food on Seychelles. First of all, most of the markets and stores provides you with very limited shopping options. You'll find there, of course, some basic producs, but it's not the standard most of us know from Europe. It turned out to be a bit problematic, because not always we had the kitchen access to prepare some dish on our own, and yet, I wouldn't even know what to cook with most of the available products (and usually I like to cook a lot) – fruits were also limited out there (because everyone has them in their garden 🙂 ), and the imported products had surprisingly high prices (like for example rice Alpro milk, 7 euros).
Most of the inhabitants at leas once a day buys Take-Away food. You can spot those small booths everywhere and they sell usually different kinds of curry for around 50-70 SCR (3-4 EUR). It's often the base of the local's diet. Mostly because they can buy it after work, it's cheap and fast, but the quality leaves a lot to be desired. Unfortunately in case of restaurants it doesn't get better, because many times I've seen that the waiters served their clients exactly the same food from the Take-Away (they just entered the booth with the plate and made a portion of the same ingredients), but with the higher prices.
However, my experience showed my that Seychellois can cook and do it perfectly – so where it's possible, we've tried to book the dinner at the hotels, where the owners cooked for us and we haven't been disappointed even once. That's how I've tried the best octopus curry and delicious, fresh and local fish. You need to keep in mind that the breakfasts, although, look very similar and usually consist of white toasts with some jam, instant coffee, sometimes oatmeal and egg omlettes. I think it's some kind of a standard breakfast all around Seychelles.
For those who are seeking some fresh fruit, the best solution is to pick them by yourself from the trees growing nearby (like bananas), or visiting one of the beach bars, where you can get freshly prepared juices and coctails containing delicious, fresh ingredients. My favorites were the ones with passionfruit and of course, the whole coconuts filled with coconut water – it works great when you're thirsty (price around 3EUR). Only after my travel to Seychelles I understood that our coconut water available in the bottles has nothing to do with the real coconuts.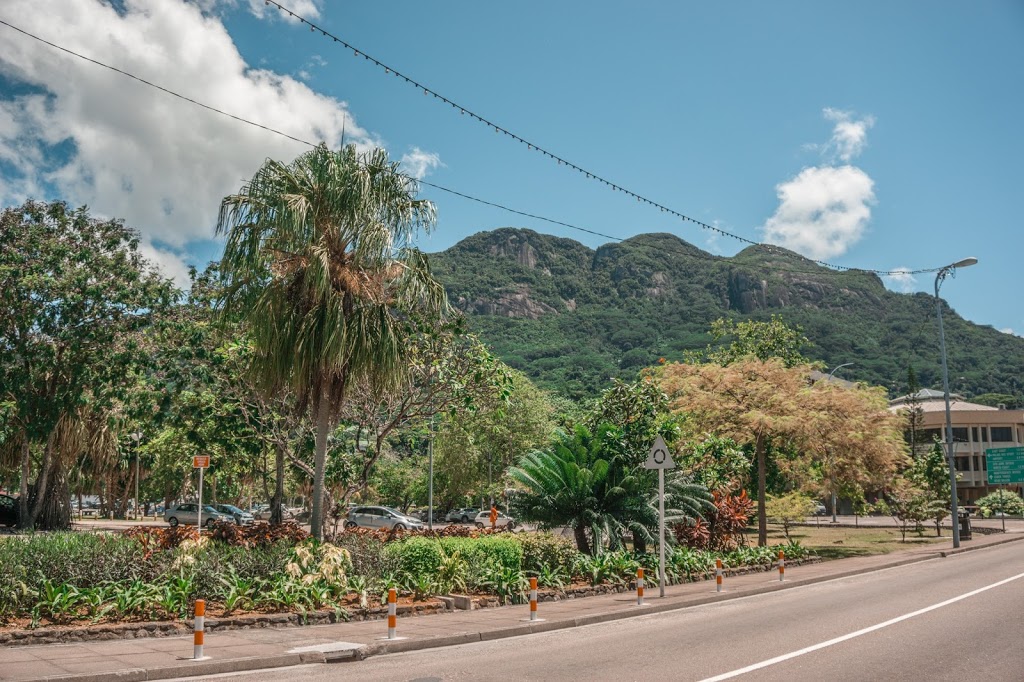 Price of the trip to Seychelles on your own
I think that's the point of interest of the readers. Seychelles are unfortunately one of the most expensive places for vacation. But the paradise beaches at the end of the world must earn money somehow. Especially that most of the products available on the islands are imported, and the tourism industry becomes one of the most important sources of income for the inhabitants. Traveling on your own you can make sure to not overpay, and booking the hotels by yourself you can choose those which are suitable when it comes to the prices.
My travel costs of the travel to Seychelles for two people for two weeks look like this:
Flight both ways: 1727EUR  (863EUR per person)
Price of the parking spot near the airport: 69 EUR
Hotels: 538 EUR
Ferries (Cat Cocos): 256EUR
Food and all the additional costs like renting the bikes, 2 x taking the taxi, bus tickets, etc: 600 EUR
  Total travel cost: 3170 EUR for two people (1585 EUR for one person)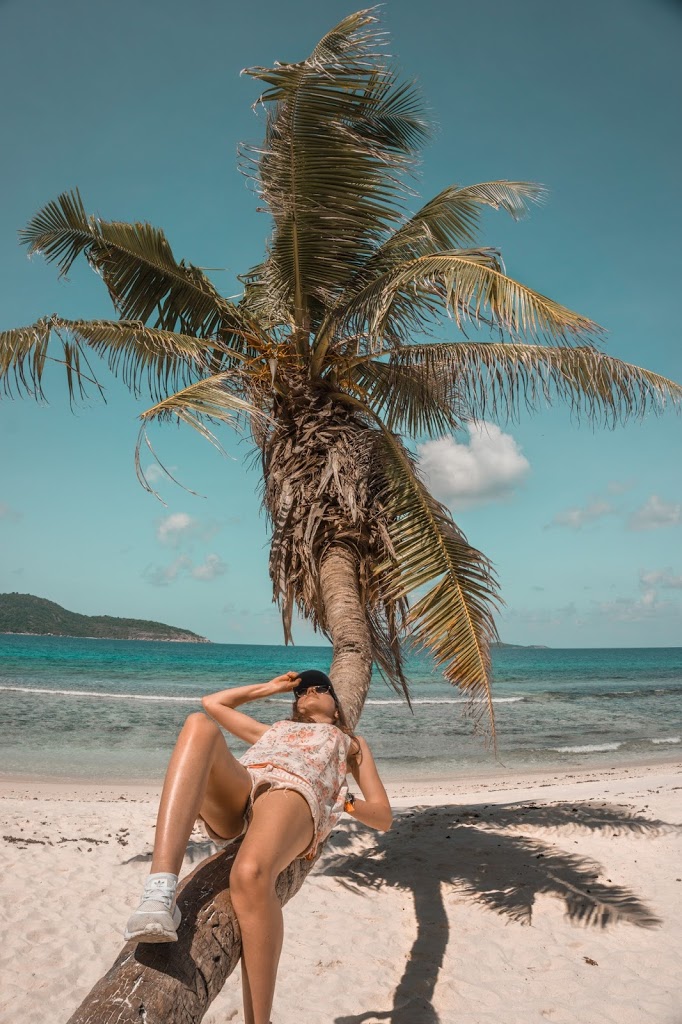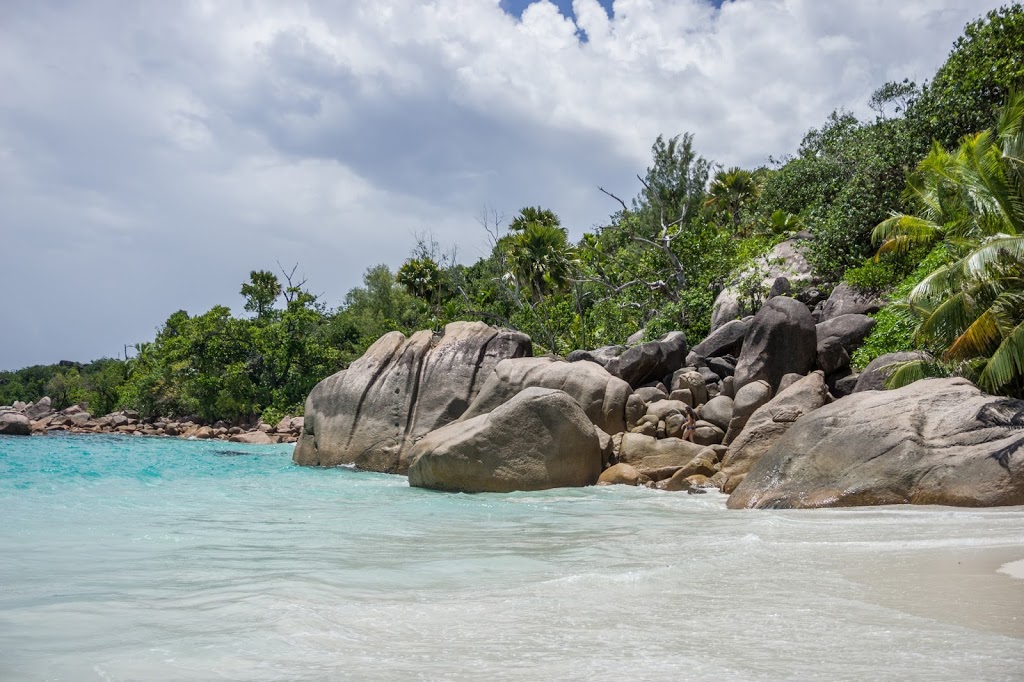 Travel to Seychelles – is it worth it?
Travel to Seychelles (and on the way to United Arab Emirates) has been my first outside of Europe, so I'm extremely happy that I fulfilled this dream of mine, and also that I've learned something more about such a tiny, paradise country. Seychellois surprised me with their openess and positive attitude towards life. As I wrote before, people whom we met, tried to tell us as much as possible about their country and the mentality of the locals. They were really kind, and when it comes to our last hotel, we've actually felt like visiting a family – and received some herbs and giant avocado for our way back home. People living on those islands are truly special, and the random passers-by, or bikers, were greeting us with the happy "Bonjour!". The nature of all islands surprised me multiple times (like with bananas and coconuts growings just by the streets!), and for the first time I've filled my camera's SD card completely until the last photo. And most of all – there are turtles living in their natural habitat!
Not to mention the pure joy of spending some time on the beach where the water's temperature reached about 25 degrees Celsius!
And even though it's a pricey travel, organizing it on our own can help us cutting major costs. Personally I truly RECOMMEND! 🙂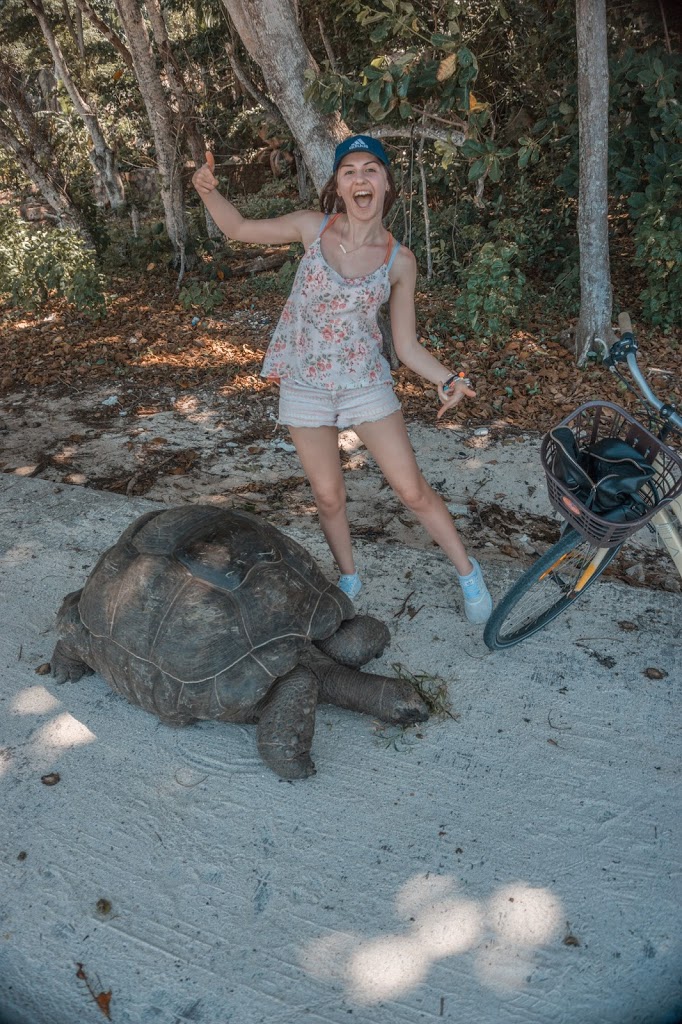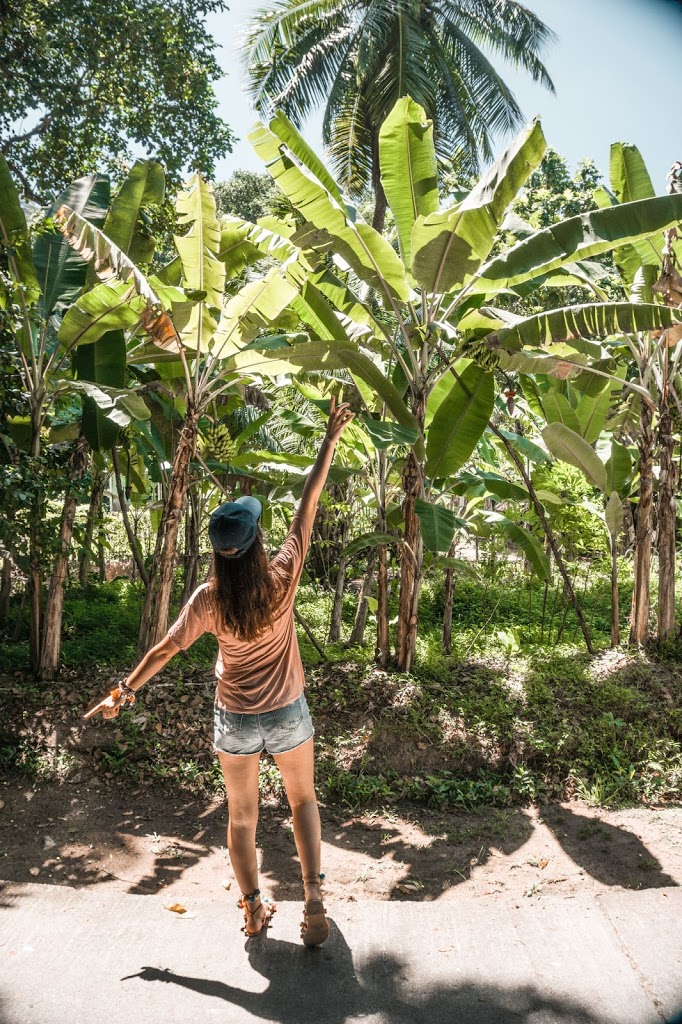 Have you been to Seychelles? What's your opinion about this place?